There has been a lot of hype around Magic Eden taking over as the leading NFT Marketplace in the crypto space lately. It has taken over 90% of total market share of Solana NFT's and due to the low tx fees on Solana even eclipsed OpenSea's daily NFT transaction records.
Magic Eden has become the biggest Solana NFT Marketplace
ME has been obsessed with being community focused over the NFT bull period #solana #summer at the end of last year and early into 2022. Thanks to Solana's low fees and quick tx times (when stable) the ME team have built a great NFT marketplace UX that focuses on trending NFT collections, new launchpad colelctions and gaming NFT's.
Since it's launch in September 2021, ME has grown to over 60 people and only a few months ago in March 2022 raised $27 million in a Series A round led by Paradigm. Sequoia, Electric, Greylock, Kindred, Variant, and Solana Ventures (source). ME has also grown to 40,000 active users! (source)
Comparing Magic Eden to OpenSea
Huge shout out to Li Jin for putting these stats together. Towards the end of May, Magic Eden was actually beating OpenSea on several stats:
139K users on ME vs. 123K on OS (13% more users)
2.4M transactions on ME vs. 404K (6x more txns)
$162M Gross Merchandise Value (GMV) vs. $210M (77% of OS's volume)
Higher frequency of transactions on ME (17 txns/user/week) vs. Opensea (3.2 txns/user/week)
OpenSea launched support for Solana NFT's back in April 2022, however have not been able to capture a huge marketshare yet. Have a look at the awesome ME vs OS dashboard setup by @derekmw23 that shows these stats every day!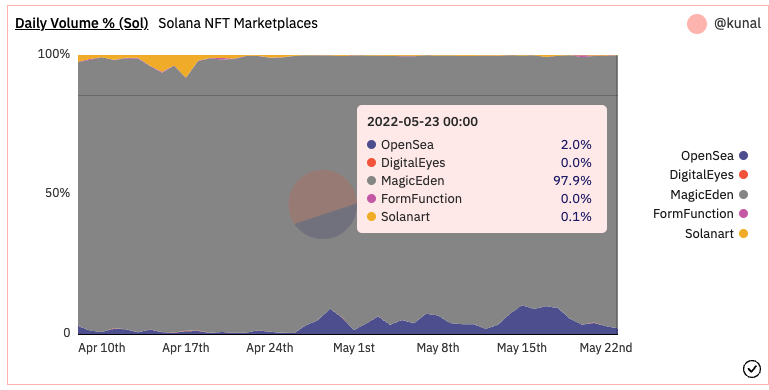 Some of the cool comparisons they show include the following growth metrics:
ME vs OS Daily Transactions / Users
OS Buyers – New vs Old Users
OS – Daily Transactions / User (Polygon)
ME vs OS – Cumulative Traders
ME vs OS – Daily Transactions
ME vs OS – 48H # Transactions / User Distribution
ME vs OS – Daily Volume
Solana has Loads of New NFT Collections Coming Online Every Week!
The ME Launchpad is always full and launching new projects every day. It has even caused Solana congestion from time to time. (Various fixes have been deployment to combat mints and bots from ME, Metaplex, Solana and Strata Protocol, hoping soon for stability on the network).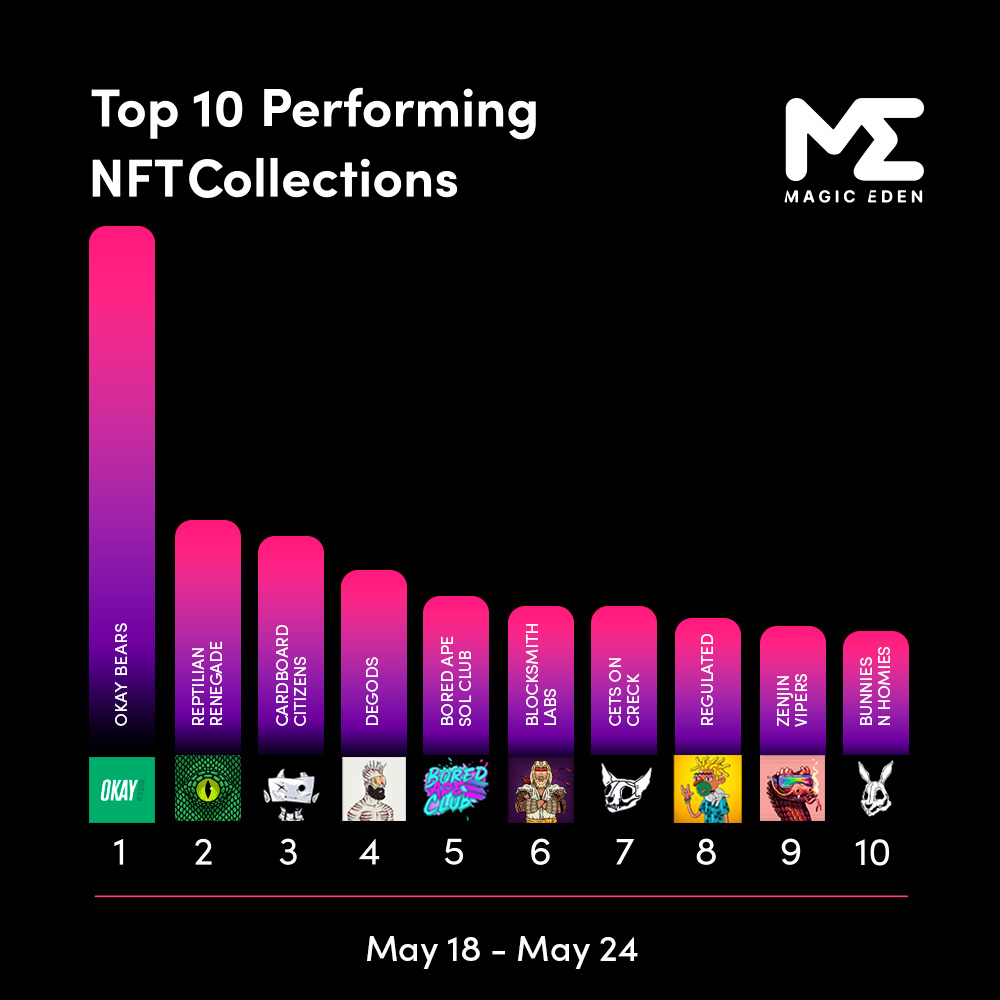 ME Develops & Improves Their Marketplace Fast
Probably the biggest reason why ME is dominating is they push updates out fast and are always improving! Have a look at Sidney's regular updates (Co-Founder & CTO). At the end of May they pushed out Cache optimization, Observability and testing, Service separation & Infra migration.
Number 1 Reason why ME is Dominating?
The ME Intern is legendary on Twitter and has built a cult following, regardless of the marketplace! Check out the ME Twitter here!
Do you love Magic Eden? Comment below….