At the end of March 2021, the @CryptoKickers word started spreading on Twitter about CryptoKickers NFT's. It has been amazing to watch how many CryptoKickers have been generated since.
The phenomenon started over on OpenSea, then when Solana announced the open source Metaplex, they built their shop on Solana. Let's run through what they've accomplished at their marketplace, their CryptoKicker customiser and the social media rise to fame.
The CryptoKickers Marketplace
So what's it about? You see all the kicker listing's over at CryptoKickers Metaplex Shop, especially their live auctions to see the bids.
These BTC kickers are going for 21 SOL which is $733.32
You can also check out finished auctions too! The "BOOBS" CryptoKickers sold for 90 SOL ($3,129.30)
The Growth of CryptoKickers
Way back in March 2021, Cryptokickers twitter came alive working with the Solana Ecosystem to build custom kickers for all the crews.
Over the next month of April, we had a lot of supercool treads minted.
A lot of these kickers were auctioned over at the CryptoKickers OpenSea.
In mid-April we saw that Phantom Wallet support for showing the CryptoKickers was coming soon!
Late April it was announced that Pro basketball player Wilson Chandler would be releasing a signature shoe!
Also in late April there were 2x drops 6.1 & 6.2 (21 pairs) of kickers, with both drops selling out in less than 20 minutes.
A CryptoKickers display also popped up in the 3D Ethereum world called Crypovoxels.
In May we had Drop 7 release!
Dortgod.eth representing in Cryptovoxels
In June it was announced that the cryptokickers.com website would let you create customize and mint your own NFT's shoes and would be based off the Solana Metaplex open-source code base.
Even the COO at Solana got some Air Raj's minted!
Since the Sole Selector website has been up and everyone could customise their own set, we have seen a massive amount of new CryptoKickers minted.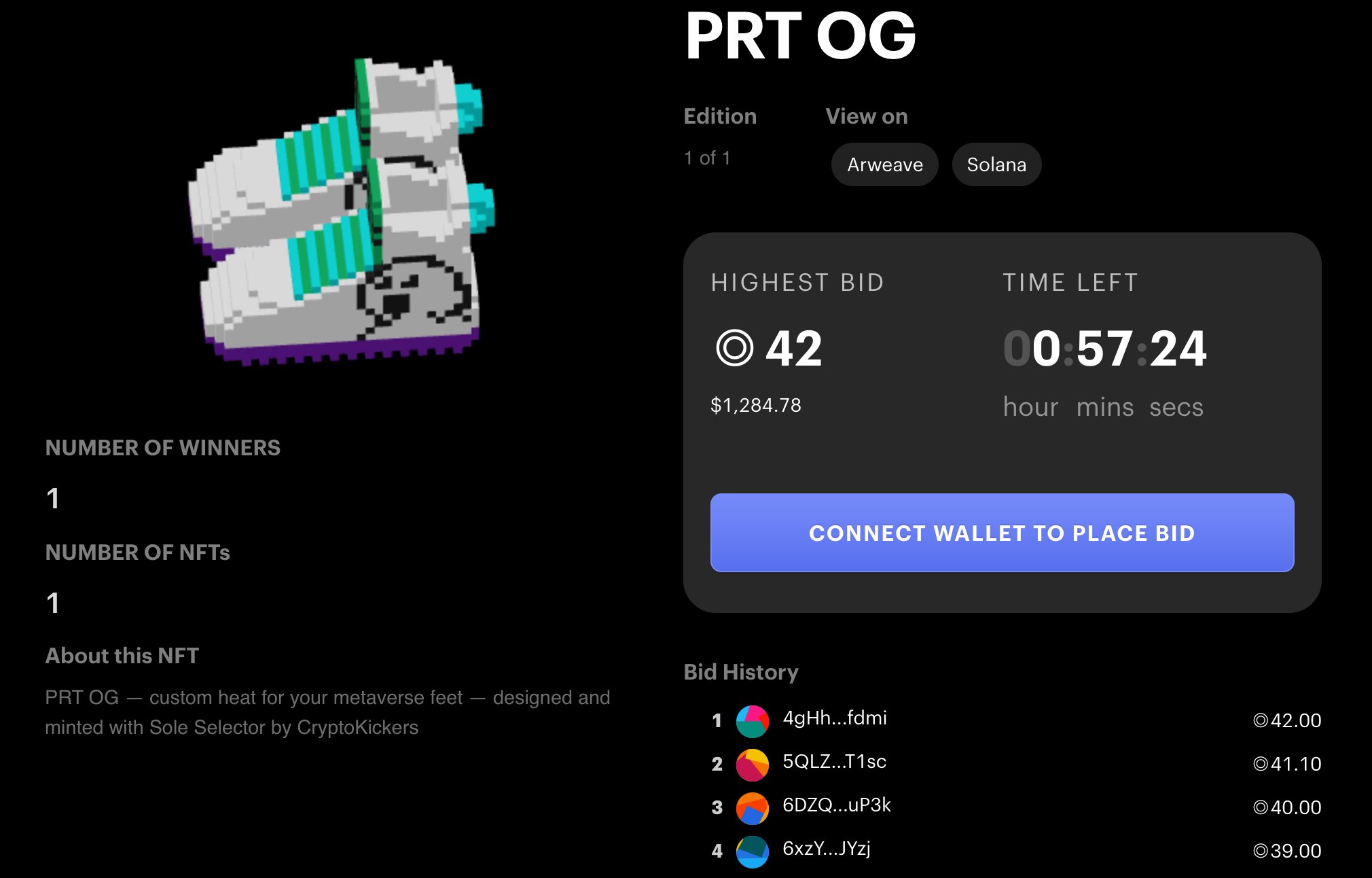 How to Mint your own CryptoKickers
Step 1 – Select a Style
Step 2 – Select a Sole
Step 3 – Select your Laces
Step 4 – Select an Accessory
Step 5 – Customise your CryptoKicker
FYI – the RANDOMIZE button did an amazing job 🙂
Step 6 – Connect your Wallet and Mint your CryptoKicker into Creation!
Phantom is recommended
It will cost you 2.3 SOL to mint, which is about $80.79 USD at the time of writing.
CryptoKickers is based off Metaplex
Metaplex is a protocol built on top of Solana that allows:
Creating/Minting non-fungible tokens;
Starting a variety of auctions for primary/secondary sales;
and Visualizing NFTs in a standard way across wallets and applications.
Metaplex is comprised of two core components: an on-chain program, and a self-hosted front-end web2 application.
You can get more info at their Metaplex Github, their Developer Guide, or over at their Discord.
Check out the CryptoKickers Showroom over at Cryptovoxels
I was hanging out in Cryptovoxels World and some other dude rocked up! Cool 🙂

What Kicks have you Made? Tweet or Comment Below…